AEW acquires iconic mixed-use buildings on Budapest's renowned Andrássy Avenue
AEW announces the acquisition of two historic, mixed-use properties on Andrássy Avenue in Budapest, on behalf of a German separate account.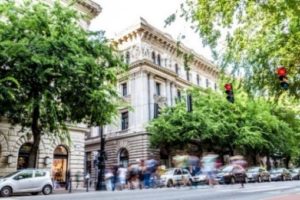 The neo-Renaissance buildings, which were comprehensively refurbished in 2001, together provide circa 7,800 sqm of lettable retail and office space. The properties are in a prime location on the southern section of Andrássy Avenue, a UNESCO World Heritage Site and one of Budapest's main shopping streets which is home to a range of international high street retail brands.
Andrássy 11 is fully let with Michael Kors occupying the retail on the ground floor whilst Andrássy 12 is partially let with Hogl, an Austrian shoe brand and Miniversum, a local railway museum, occupying the ground floor units. This property offers a number of asset management opportunities to increase occupancy of the office space and grow rents across the building.
Nikos Koulouras, AEW's Co-Head of Investments, commented: "This acquisition provides our client with access to a high quality portfolio that provides scope for value creation through active asset management. These historic buildings are in a prime location in a city which boasts a growing economy and has recorded strong retail sales, underpinning the future opportunity for these assets. We retain a strong interest in the Hungarian real estate market, which continues to offer attractive investment opportunities, and are committed to broadening our wider portfolio in this market."
Lars-Henning Pylla, Fund Manager at AEW, commented: "Andrássy Avenue is one of Budapest's most iconic streets and this transaction presents a rare opportunity to acquire two properties with historic significance. The high profile location of these properties and its desirability to tenants were compelling attributes for this mandate's first acquisition in Hungary and we are pleased to add another CEE growth market to this portfolio."
AEW was advised by Oppenheim and Savills/Wigan Acquisitions. The vendor was advised by CMS and CBRE.
ABOUT AEW
AEW is one of the world's largest real estate asset managers, with €65.4bn of assets under management as at 31 December 2018. AEW has over 700 employees, with its main offices located in Boston, London, Paris and Hong Kong and offers a wide range of real estate investment products including comingled funds, separate accounts and securities mandates across the full spectrum of investment strategies. AEW represents the real estate asset management platform of Natixis Investment Managers, one of the largest asset managers in the world.
As at 31 December 2018, AEW managed €31.4bn of real estate assets in Europe on behalf of a number of funds and separate accounts. AEW has over 400 employees based in 9 offices across Europe and has a long track record of successfully implementing core, value-add and opportunistic investment strategies on behalf of its clients. In the last five years, AEW has invested and divested a total volume of over €20bn of real estate across European markets.
Saida Grosvalet
+33 (0)1 78 40 92 10
+33 (0)6 15 40 60 11
saida.grosvalet@eu.aew.com
FTI Consulting
Richard Sunderland/Claire Turvey
+44 (0)20 3727 1000
aew@fticonsulting.com
https://wiganacq.com/wp-content/uploads/2018/02/wigan_acquisitions_logo.png
0
0
srg
https://wiganacq.com/wp-content/uploads/2018/02/wigan_acquisitions_logo.png
srg
2019-03-04 08:43:00
2019-03-04 08:44:09
AEW acquires iconic mixed-use buildings on Budapest's renowned Andrássy Avenue