0100 Virtual DACH – 03–05 May 2021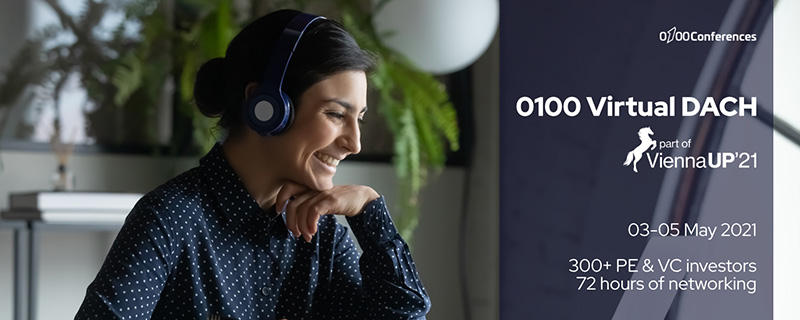 Leading Private Equity & Venture Capital Virtual Conference in DACH Region
The 0100 Virtual DACH conference gives you the best networking opportunity of the year combining several options how you can interact with the audience through our virtual platform.
500+ PE & VC Professionals
300+ LPs & GPs
40+ speakers
3 days of networking
Meet our audience of senior-level General Partners from renowned private equity & venture capital funds, Limited Partners, including pension funds, funds of funds, family offices, high-net-worth individuals, business angels, insurance companies, as well as leading service providers, and other industry professionals who are looking at the DACH countries. At our past 4 virtual conferences, we were pleased to welcome over 2300+ registrants.
Stand out from the crowd for 2021 and get prepared for the after-crisis PE market. There's no one-size fits all strategy, so we will be digging into the impact of this crisis on an investor-by-investor basis. During the conference, you will gain insights about PE Investment in Austria, Operational Excellence in PE, LP Perspective on DACH region, what long-lasting changes have LPs adopted due to the COVID-19?, ESG investing, Post COVID-19 Start-up Ecosystem in the DACH Region and many more.
Why to attend?
Whether you are a Limited Partner, General Partner, or Service Provider, the conference will be tailored to your needs:
1. Interactive Networks – Meet and build relationships with influential networks. Connect with investors, future partners from all across the world. Expect to network with the leading players in the industry during breakout sessions, 1on1 meetings or pre-arranged meetings.
2. Insights & Panels – Access valuable information and shared knowledge from senior decision-makers. During multiple panel discussions, keynote presentations, the world-class speakers will share on & off stage their experience and insights.
3. Get your company seen and your voice heard – The conference can increase your digital visibility. By attending our conference, the name of your company will be named in the delegates list that we send to all of our attendees prior to the event.
4. Time & Cost Efficient – Attending a networking conference has never been more convenient. You can access the event from the comfort of your home. No travels, no flight delights. The PE & VC virtual conference saves your time and costs.
Virtual Conference Powered by the Best Technology
Hopin technology that connects people from all over the world is simple, convenient and reliable. The conference will run just as the face to face conference but in the virtual space – we will have our speakers on the stage where you can listen and participate in the chat and ask them the most important questions for you and your company. During the breakout sessions, you will be able to network in closed network rooms with up to 20 people or chat and discuss in the public rooms with an unlimited number of participants, and face-to-face with experts from across the world.
Scheduling Meetings
As we know that you want to be able to meet with one another in order to help build meaningful connections, Hopin now gives you the opportunity to schedule meetings just like in an in-person conference. This feature allows you to send out meeting invitations for up to 4 other users (limit to 5 attendees per meeting). If the attendees accept your invitation, they will be notified 5 minutes before the meeting is about to start, and once again when the meeting starts. The notification can take you directly into the meeting room.
The PE & VC Virtual Conference is an invaluable networking experience via a tailor-made conference platform. You will be also able to enjoy round table discussions, valuable presentations, insightful panel sessions, workshops and moderated networking meetings.
The Partners
Thanks to our partners we can bring you a high-class experience of virtual networking.
We partner with the local most relevant associations and entities that give us a better understanding of how the market is performing.
https://wiganacq.com/wp-content/uploads/2021/05/0100_Virtual_DACH.jpg
320
800
srg
https://wiganacq.com/wp-content/uploads/2018/02/wigan_acquisitions_logo.png
srg
2021-05-03 10:00:39
2023-03-30 08:04:14
0100 Virtual DACH – 03–05 May 2021